2 Post Hoists
If you are looking for 2 post car hoists for sale in Australia, you have come to the right place. Lift capacity is an important factor to consider when investing in a quality 2 post car hoist for your automotive workshop. The right car hoist should provide increased reliability and versatility, in addition to impressive lifting capacity.
Pro Workshop Gear is your trusted partner in Australia for all of your 2 post car hoist needs. We offer two-post hoists for sale with 2 years warranty! Our 2 post car hoists for sale are ideal for professional workshops and home garages. Enquire now to get a free quote to buy 2 post hoists, 2 post car lifts, dual hydraulic cylinders, car lifts, floor hoists, post car hoists, and more at reasonable prices.
Showing all 8 results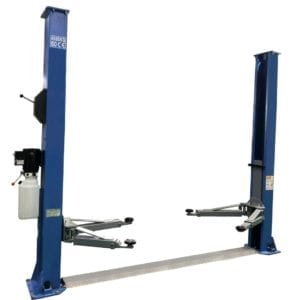 Single side manual release Base Plate 2 post Hoist 4T Strong Structure, safe and easy to work, single side manual unlocking mechanism, single phase, .....
Why Buy A Two Post Car Hoist For Sale From Pro Workshop Gear?
Our superior quality and robust two-post hoists are designed to handle all of your auto lifting applications. We know that you demand uncompromising quality from vehicle hoist machines with an increased lifting capacity to maximise lift time and get the job done safely.
Pro Workshop Gear features some of the best 2 post hoists for sale built with exceptional quality, CE and work safe certification. Our Jackaroo 2 post Hoist comes with a 4.5T lifting capacity Clear floor or Base plate, round-up screw adjustable pads, electrical or manual release, as well as height adaptors. The hoist consists of 14 bent strong columns for better safety and more stability. It also has 2 hydraulic cylinders for less wear and tear. You won't regret the decision to invest in superior quality two post car hoists at reasonable prices from Pro Workshop Gear.
Pro Workshop Gear was founded in 1998. Ryan – the CEO and founder of the company – has been around the auto-mechanical industry for more than three decades. With a wealth of knowledge, experience, and passion for automobile tools and equipment, Ryan founded Pro Workshop Gear to supply superior Automotive Service Equipment to Australia. The company joined with Jackaroo ten years ago to deliver superior quality Jackaroo brand automotive service workshop equipment to workshops across Australia over the years. No corners are cut when it comes to the products offered by Pro Workshop Gear. That is why you can trust us for all your 2 post hoists needs in Australia.
Quality Two Post Hoists And Car Lifts For Workshops
Our two-post car lifts and hoists are designed to handle all of your auto lifting applications. In fact, our rugged two-post car lifts deliver on our promise of superior performance. The 2 post lifts and car hoists are respected all around Australia for their top-quality craftsmanship, feature-rich designs, and forward-looking technology.
No matter the capacity of the car hoist model you choose, Pro Workshop Gear offers CE and work safe certified two-post hoists for your needs and budget. Our superior quality lifts and hoists cater to vehicles of all shapes and sizes.
2 Post Hoist For Sale!
When you are looking for quality 2 post hoists for sale in Australia, look no further than Pro Workshop Gear. We offer a variety of car lifts and hoists to suit the needs and budget of a wide range of automotive workshops across the country.
We deliver to Melbourne, Canberra, Adelaide, Sydney, Darwin, Brisbane, Hobart, and Perth. Plus many more regional depots across the country.
2 Post Hoists FAQs
How much does it cost to install a 2 post lift?
Depending on your location You should expect to pay anywhere between $650 and $2,500 to install a standard 2-post car lift with a capacity of around 10,000 pounds.
What height should a 2 post lift be?
We recommend an internal apex height of at least 3m for a floor plate style two-post hoist and a minimum of 4.2m height for a Clear floor 2 post hoist.
Can a 2 post lift be installed outside?
Most manufacturers recommend a fully enclosed installation. You should note that the warranty of the hoist will not be applicable if you install the hoist outside through a non professional installer.
How thick should concrete be for 2 post lifts?
Concrete thickness and strength may vary depending on the size of the hoists, generally It is recommended to have a concrete base of at least 6″ thick with a minimum of 32MPA (concrete strength) for stability and durability; anything less could result in cracks or breaks over time if not properly maintained.
How much room do you need for a 2 post hoist?
You should have at least 600mm clearance from both sides (and any corners) when installing this type of structure. This also includes an overhead clearance.
Where should a 2 post lift be placed?
Wherever it can support the weight of your car and provide adequate space for installation.  In most cases, this should be in an area with no traffic or heavy equipment nearby.
How do you get past Level 2 post lift?
The correct procedure for leveling a 2 post lift is as follows:
Loosen anchors on both columns and push them inward slightly to lower pads.

Next, outwardly-facing shims should elevate the other side by half of difference between it and your desired height (i.e left column in this case).

When done properly you should have a parallel alignment.
What size anchors for 2 post lifts?
There are several factors that go into this decision, including how much weight will be supported by each side and where exactly where it will be located in relation to its attachment point.
Contact
Need Advice? Just give us a call!
1300 082 002