Car Wheel Balancer
Wheel balancers are necessary equipment for automotive and tyre shops of all sizes. With time, they will boost your returns and ensure you keep pace with the increasing customer demand. A wheel balancer enables you to execute all sorts of wheel/tyre/suspension work; it equalises the weight of tyres and wheels. Weight imbalances can significantly distort centrifugal force consequently resulting in road accidents. Our wheel balancers will show whether tiny weights need to be added to the wheel to make sure that it's rotating smoothly.
If you are searching for a high-quality wheel balancer for sale, please reach out to us at Pro Workshop Gear to get a free quote today!
Showing all 2 results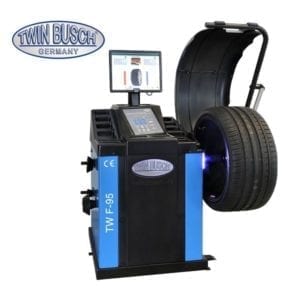 Automatic Wheel Balancing Machine TWF-95, Automatic Wheel Balancing Machine is hassle free & user friendly  for professional tyre  and service .....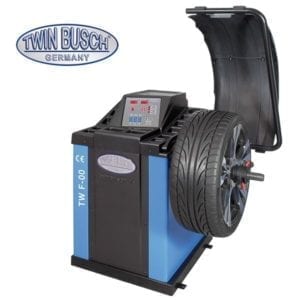 Twin Busch Wheel Balancing Machine basic Line Semi-Automatic Wheel Balancing Machine - Basic Line is a perfect tyre service machine for car .....
Why Buy Car Wheel Balancing Machines From Pro Workshop Gear?
Quality Assurance Process & Testing – Every tyre service tool, pole hoist, wheel alignment system, and all other wheel balancing machines we provide are subject to a rigorous quality assurance testing process from beginning to end. Our goal is to guarantee that our clients get premium wheel balancing machines and also ascertain the integrity of the products were are providing. Our automotive workshop equipment meets the highest standards of quality on the market and guarantees to boost your customer service, business performance, and overall profit margins.
Product Demonstrations – Given that the products we provide are state-of-the-art and are on par with the current technological advancements, we understand not all our clients may be conversant with the workings of the wheel balancing machines they buy. If you don't know how to use wheel balancers for your workshop, we offer product demonstrations on request from our clients.
Optional Extended Warranties – Here at Pro Workshop Gear, we are confident in all of the wheel balancing machines we sell to you, which is why we back our range of wheel balancing machines with extended machines to give you peace of mind. You never have to worry about buying from us!
Advantages Of Using Wheel Balancers
Tyres Need To Rotated & Balanced
According to manufacturers, tyres should ideally be rotated after every 5,000 to 6,000kms. For this reason, having the capability to deliver a complete service to all your clients – particularly repeat customers – is key. Responsible car owners will visit your workshop regularly to have their wheels rotated and balanced. This is why you need to have a wheel balancer in your workshop to keep pace with demand. If you are contracted to do any detailing, tyre changes, suspension work or any task that entails wheel removal, having a wheel balancer will guarantee top performance and ultimately increase traffic at your workshop.
Prevents Dangerous Wheel Vibrations
As time lapses, through the daily tread and suspension wear, your tyres and wheels will experience alterations when it comes to how their weight is distributed. Although this is normal, if left to escalate, it could result in unbalanced tyres along with vibration in the floorboard, seat, and steering wheel. When your workshop has a wheel balancer, tyre balancing will reduce tyre and treadwear, increase comfort while driving, and assist in the preservation of the suspension of your car.
Balancing Takes At least 5 minutes
A wheel balancer saves time for both you and your clients. During the wheel alignment, a trained technician only needs to mount the wheel as the readings are then automatically measured by the wheel balancer and then add wheel weights for an accurate balance.
A Wheel Balancer For Practically Every Wheel And Every Shop!
If you want to find the best wheel balancer that meets your specific needs, we at Pro Workshop Gear provide car wheel balancing machines for every wheel and every shop. It doesn't matter whether you're looking for a static wheel balancer, electronic wheel balancer, or a second-hand wheel balancer for sale, contact us if you need any deliveries made directly to your workshop.
We deliver to Melbourne, Canberra, Sydney, Adelaide, Brisbane, Darwin, Perth & Hobart. Plus many more regional depots across the country.
Please CALL US NOW at 📞 1300 082 002 or email sales@proworkshopgear.com.au to place your order!
Car Wheel Balancer FAQs
How do I know if my car needs wheel balancing?
Common symptoms for tyres that need balancing are uneven wear on the tyres, poor fuel economy and vibration in the steering wheel or even the seats that gets worse at higher speeds.
What does a wheel balancer do?
The computer wheel balancer has sensors that measure both sides of the tyre, and then uses this information to create an accurate reading on how much force each side should have for optimal performance.
What is a wheel balancer in an automobile?
The process of wheel balancing ensures that all four tyres are equally weighted so they travel smoothly with little wear from excessive unevenness.
How much does a wheel balancer cost?
Buying a wheel balancer can be a bit confusing it you don't know all the Specifications, and functions that you are expecting that a car wheel balancer should have, generally price of a reliable and accurate car wheel balancer starts from $3000.
Which wheel balancer is best?
Wheel balancers come with different types of configurations and it's best to invest in one that matches your workshop size.
Is it safe to drive with unbalanced wheels?
In most cases, driving with unbalanced wheels is safe. However, if you're distracted by the vibration it could lead to an accident.
What happens if you don't balance wheels?
Unbalanced wheels cause shaking and vibration which can lead to uneven wear and eventually affect how well they handle as well fuel efficiency!
How much does it cost to fix unbalanced tires?
You can expect to spend about $15-$75, depending on your vehicle and tyres.
Contact
Need Advice? Just give us a call!
1300 082 002