Description
Our Jackaroo 3.5T high rise in ground Car Scissor Lift is a wise choice for tight and small workshop, quick and efficient for tyre shops, mechanical
workshop and performance tyre shops, packed with the all the safety features and limit switches.
Our high rise car scissor lifts are made high quality, heavy duty & come with warranty!
Our high rise scissor lift can lift up to 2050mm.
Mid-Rise and On-Ground High-Rise scissor Lifts are also available.
You can also buy this product on Ebay.
Dimensions: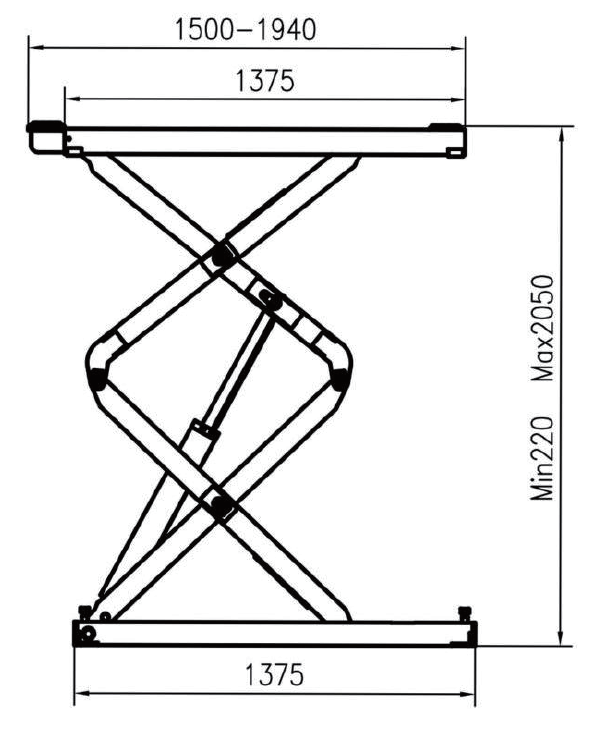 Standard Inclusions:
Aluminium motor unit with steel oil tank
safe 24V control Box
Rubber blocks (4 Pcs)
Heavy duty Anchor bolts (8 Pcs, M16*120mm)
Manual Book
Optional: Special Hydraulic Oil
Features: 
Lifting capacity of 3500 kgs 
Max.  Lifting height 2050 mm
suitable for professional repair and tyre shop
Smart leveling sensor to prevent uneven lifting or lowering
Australian standard (Safe Work NSW) & CE approved
3 phase Power
Powerful cylinder 2 for each side
Lowering warning Buzzer
Anti-burst value for more safety
Limit switches
Pneumatic locking/unlocking mechanism
Heavy duty platform
Powder coated
Technical Data:
Lifting capacity  3500 kg
Max lifting height 2050 mm
Minimum lifting height 220 mm
Power supply 415 V
3 Phase Power
lifting time ≤ 50 S
Motor Power: 2.2 KW
Weight 927 kg
Note, Just special Hydraulic Oil recommended