Motorcycle Lifts and Stands
Whether you are a budding mechanic or run a professional workshop, everyone wants a safe and comfortable way to service their motorbike. A high-quality motorcycle lift allows you to properly and safely service your motorcycle. We offer high quality, heavy-duty motorcycle lifts that are ideal for professional and home garage use. They come equipped with a remote control and you don't need an air compressor to operate them. You can also use it to lift ride-on mowers, small drift cars as well as ATVs with the help of a side extension platform that's included with the unit.
Showing all 2 results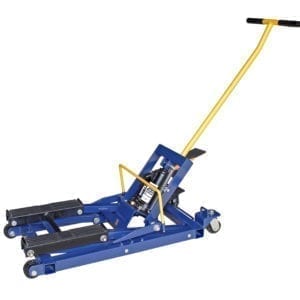 Motorbike Mobile Stand Jackaroo 680 Kg Motorbike Mobile Stand, has self-acting mechanical lock which can be engaged in 3 positions and swivel .....
Motorcycle Lift & ATV Lift 600KG 600Kg Modern Electro Hydraulic Motorcycle lift & ATV Lift packed with all the safety features. High .....
Why Buy Motorbike Hoists from Pro Workshop Gear?
We have been a part of the automotive service and repair industry since 1998. We just don't sell the equipment but we use the same equipment in our own workshop that we supply to workshops all over Australia.
We have a well-established reputation for supplying the highest quality products at affordable prices. All the products available for sale on our website are used in our own workshop. With over two decades of experience in the motorcycle and automotive industry, we know what our customers want and we strive to provide them with the best quality and most unique designs that you can find.
We understand why buyers need motorbike hoists and what their expectations are. We are not like other sellers who have never used the equipment in a real automotive workshop environment. We understand the limitations of various designs and this is why we have made it our mission to provide the best automotive workshop equipment such as motorcycle hoists, at the best price.
Things To Consider When Buying Motorcycle Lifts
Here are a few important factors you should seriously consider when buying a motorcycle lift to get the best value for your money:
Safety – This is an obvious one. After all, you need your lift to be completely safe for operation. It should be steady and secure. It should ideally have a built-in release valve for more safety.
Lifting Weight Capacity – A motorcycle lift or hoist has to support the entire weight of the vehicle. Choose a model that provides a comfortable margin between the rated weight capacity and the weight of the bikes you are likely to service on the hoist.
Balance – You shouldn't feel insecure while working on your bike. The lift has to be stable allowing you to work on your motorbike without any worries.
Lifting Height Range – When you are servicing your motorcycle, you need to be able to reach its underside with ease. Pay special attention to the minimum and maximum height to which the platform can be raised.
Versatility – It is better to invest in a versatile lift that also allows you to use the same platform for lifting ATVs, ride-on mowers and similar vehicles.
Manufacturer's Reputation – A motorcycle hoist doesn't come cheap. More importantly, a poorly designed or poorly constructed motorcycle lift is a safety hazard. This is why it is important to choose a manufacturer known for high-quality products backed by extensive after-sales support.
Best Motorbike Hoists In Australia For Sale
With over 20 years of experience in the motorcycle industry, we are known for offering highest quality products, at affordable prices. Our motorcycle lift is designed for professional as well as home garage use. We extensively use the products we sell in our own workshop.
With our motorcycle lift, you also get a side extension platform that allows you to comfortably service ride-on mowers, small drift cars as well as ATVs. It also features a built-in valve for more safety along with a front-wheel vice. Also, it is remote-controlled and has a lifting capacity of 600 kg.
We deliver to many regional depots all across the country including Melbourne, Darwin, Brisbane and Hobart.
Motorcycle Hoists FAQs
What is the best motorcycle lift?
The best motorcycle lift is the one that is safe to operate, completely stable and is backed by an impeccable manufacturer's reputation. It should also have a comfortable safety margin between the actual motorcycle weight and the maximum lifting weight rating.
How do you make a motorcycle elevator?
You can try to build one at home but safety will always be a concern. Building one on your own is not worth the hassle as high quality and proven products with proven track records are available at affordable prices.
How can I lift my motorcycle without a lift?
You should never try to lift your motorcycle without a lift as it's not safe. It can tip over leading to injuries and considerable damage to the bike itself.
How do you lift a cruiser motorcycle?
Use a high-quality motorcycle lift with a maximum lifting weight capacity much higher than the total weight of the cruiser motorcycle. Also, the lift should have enough lifting height to allow you to reach the underside of the cruiser easily.
How do I lift my motorcycle for maintenance?
Use a high-quality motorcycle hoist sold by Pro Workshop Gear to safely lift your motorcycle for maintenance.
How do you lift the front end of a motorcycle?
Use a high-quality motorcycle hoist with a front-wheel vice to safely lift the front end of your motorcycle.
How do you make a motorcycle hoist?
It's better to buy from a trusted and reputable supplier such Pro Workshop Gear instead of trying to make your own.
How much is a motorcycle hoist?
Motorcycle hoists are available in a wide range of prices. Typically, you get what you pay for. Instead of price, your focus should be on safety, ease of use, maximum and minimum height, maximum lifting weight capacity and other important factors.
How does a motorcycle lift work?
Motorcycle lifts are typically scissor style lifts and are powered by either electric hydraulic, air hydraulic or air.
Contact
Need Advice? Just give us a call!
1300 082 002