Description
Motorcycle Lift & ATV Lift 600KG
600Kg Modern Electro Hydraulic Motorcycle lift & ATV Lift packed with all the safety features. High Quality heavy duty Motorcycle Lift with more than 900 mm lifting height. Ideal for Professional and Home Garage Use, With Front Wheel Vise. Remote Control operated, Built in valve for safety option and no air Compressor needed. Side-extension platform is also included to be able to lift up ATV, Lawn Mowers and small Drift Cars.
High & Mid car rise scissor lift with 1000 to 1870 mm lifting height also available.
You can also buy this product on Ebay.
Features: 
Top built quality with CE-certificate
Ideal for Home and Professional Use
side-extension platform to be able to lift Up handle ATV, Lawn Mowers and small Drift Cars
built-in Valve for more safety
No compressed air supply is required
Front Wheel Vise
handling the hoist operation by Remote Control
Technical Data:
| Lifting capacity | 600 kg |
| --- | --- |
| Lifting height max. | 905 mm |
| Min. Height | 260 mm |
| Platform Length | 2000 mm |
| Power supply | 240 V / 50 HZ |
| Motor power | 0.55 kW |
Standard Inclusions:
Motorcycle Hoist
Control Box
CE-certificate
Remote Control
Instruction manual
Optional Accessories:
Side-Extensions Platform
Mobile Control Panel
Aluminium Plate stop slipping
Special Hydraulic Oil
Dimensions For motorcycle Hoist: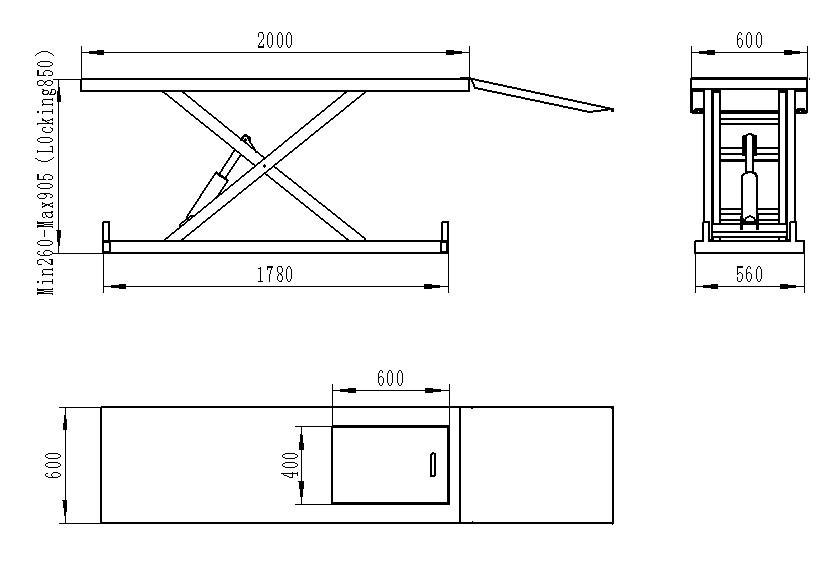 Dimensions For ATV Hoist: