4 Post Hoists
If you are looking for a versatile car hoist with high capacity, 4 post hoists are the answer. 4 post car lifts represent the very best available in terms of build quality, technology, materials, and safety. When you want the best 4 post car hoist for sale in Australia, Pro Workshop Gear is your trusted partner. We offer some of the best 4 post car hoists in Australia at affordable prices. Check out the best 4 post car and truck hoists in Australia! Pro Workshop Gear provides you with 4 post hoists and lifts built to Australian standards. Enquire now to get a free quote!
Showing all 8 results
Sale!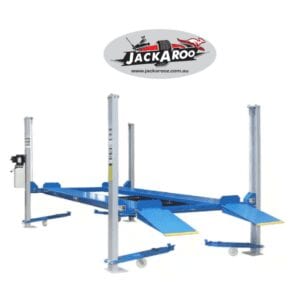 4 Post Hoist 3.6T Standard  3.6T car parking hoist suitable for workshop or home garage. If you have limited space now you have a safe and .....
Why Buy A 4 Post Car Hoist From Pro Workshop Gear?
Pro Workshop Gear offers you a wide selection of four-post hoists for both servicing and storing residential and commercial vehicles. Our heavy-duty car hoists are available at prices that won't break the bank. The 4 post hoist for sale at Pro Workshop Gear poses no hazards to others as it is both stable and structurally sound when correctly installed.
4 post car lifts are considered to be less demanding and safer to operate than 2 post car hoists. In fact, our high-quality vehicle hoists are portable and easy to reposition when needed. We provide peace of mind by giving our clients a lifetime structural warranty and a 3-year motor warranty.
Pro Workshop Gear's 4 post car hoists for sale are engineered to meet the demands of any hoisting job. Pro Workshop Gear was founded in 1998 by an expert with over 30 years of experience in the automotive equipment industry in Australia. We have our own automotive equipment brand under the name of "Jackaroo." Jackaroo is an Australian registered brand that you can always trust. In fact, you are safe to buy Jackaroo products since they are covered with at least a minimum 2-year full warranty, and depending on the products, it could extend to 5 years.
Quality 4 Post Hoists And Lifts For Workshops
If you want the highest quality four-post car lifts and hoists for your automotive workshop, you can always rely on Pro Workshop Gear. The Pro Workshop Gear 4 post car lifts for sale represent the very best quality in the industry and are designed specifically for Australian workshops. Our hydraulic cylinders, jacking beams, rolling jacks, safety locks, wheel alignment equipment, drip trays, car hoist 4 posts, and four-post hoist for sale are optimised for safety, performance, and control.
Our 4 post hoist is perfect for maximising limited floor area. The 4 post car lifts make light work of heavy lifting, utilising the highest quality materials to deliver durability and optimal performance. Our units are low maintenance for the entire life of the equipment.
4 Post Hoist For Sale!
Jackaroo 4 post hoists are available for delivery across Australia including Melbourne, Sydney, Adelaide, Hobart, Perth, and more. We provide a commitment to safety to give our clients peace of mind. Our equipment employs a range of safety features in every model.
Look no further than Pro Workshop Gear when you are looking for the highest quality 4 post hoist Australia. We pride ourselves on providing quality 4 post car lifts at the best prices, with an emphasis on client satisfaction. Call us today to get a free quote!
4 Post Hoists FAQs
What's better 2 or 4 post lifts?
It depends on what you want to achieve with the hoist. A 4 post car lift takes up much more space than a two-post hoist. On the other hand, a 2 post hoist will raise the vehicle higher in a low ceiling garage.
How much does a 4 post car lift Cost?
An average 4 post car lift costs around $3600.00. You should choose the right product depending on the capacity and its intended use.
Which 4 post lift is best?
Pro Workshop Gear's 4 post car lift is one of the best in the market today.
How much space is needed for a 4 post car lift?
The typical measurements for a 4-post car hoist are 2.6 metres wide by 4.4 metres long.
Does a 4 post lift need to be anchored?
4-post car lifts are engineered to lift vehicles with or without drop-in anchor bolts.
Is a 4 post lift worth it?
On a four-post lift, you can load and position the vehicle with ease. The runways on these types of lifts make it easy for operators to drive and maneuver the vehicle.
How high should a ceiling be for a 4 post lift?
The recommended height from floor to ceiling for a 4 post lift should be at least 3 metres.
What are 4 post lifts used for?
This type of lift is the most common and can be found in many workshops. It's commonly used for work on mufflers, oil changes and transmission services as well as wheel alignments.
Does a 4 post lift need to be anchored?
No. 4-post lifts are designed to lift vehicles and don't require anchor bolts as they disperse weight across a wider surface so it is not compulsory to anchor them.
Will a 4 post lift fit in my garage?
A 4 post lift typically comes with dimensions of 2.8 metres wide and 4.4 metres long but you also need to have floor to ceiling height of at least 3 metres.
Contact
Need Advice? Just give us a call!
1300 082 002