Wheel Alignment
Making sure your wheels are properly aligned improves both the longevity and performance of your tyres. Over time, wheels become misaligned as a result of driving on uneven surfaces, hitting bumps, potholes, and via general wear and tear. As such, it is imperative to keep your wheels properly aligned to ensure optimal performance and quality.
If you are in Sydney, Canberra or anywhere in NSW and want to improve the safety of your tyres with wheel alignment, do not hesitate to contact Pro Workshop Gear by calling 1300 082 002 today!
Showing all 3 results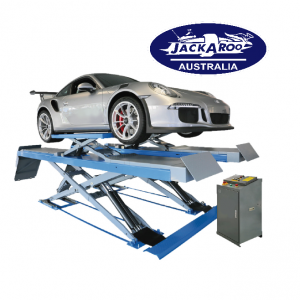 Jackaroo 4.5T On-Ground Alignment Scissor Lift, Extra Low Profile, Built In Secondary Belly Lift The Jackaroo 4.5T on-ground alignment scissor lift .....
Description: Fixed mounted 3D car Wheel Alignment with Automatic lift function 2 Post & Mini Scissor Car Lift's and Four-Wheel .....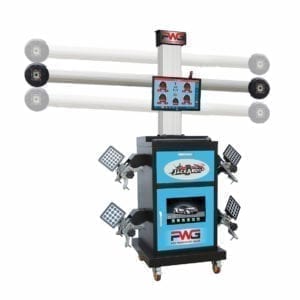 Wheel Alignment Machine,3D Mobile Cabinet 3D Car Wheel Alignment Machine Mobile Cabinet, absolutely User friendly.  Can be operated on 2 .....
What Is Wheel Alignment?
Also referred to as tyre alignment or tracking, wheel alignment is a service that ensures your car tyres are pointing straight ahead. This procedure deals with changing the angles of the tyres so that they are parallel to each other and perpendicular to the ground, thus allowing your car to drive in a straight line.
Do I Really Need Wheel Alignment?
If your vehicle is pulling to one side when driving or you're having a hard time with steering, then you are in need of wheel alignment. Other common symptoms of misaligned wheels include steering wheel vibration, uneven tyre wear, scrubbing noises at low speeds, and pulling or dragging to one side.
Wheel alignment is vital for safe driving, but it provides an array of other benefits including:
(i) Increased Fuel Efficiency
When your wheels are misaligned, they do not work together as they should. This makes the engine work harder in order to move the car and this reduces the vehicle's fuel efficiency.
(ii) Smoother Driving
With misaligned wheels, the car tends to drift slightly to the side even when the steering wheel is aimed straight ahead. This means you have to constantly adjust the steering to compensate for poor alignment which can be distracting, tiring and outright dangerous.
(iii) Increase the Life of the Tyres
Tyres do not come cheap and they are an essential part of your vehicle that can wear out much more quickly without proper alignment. By properly aligning the tyres, they will work in harmony and way longer than they would otherwise.
(iv) Minimise Costly Auto Repairs
Driving with misaligned wheels results in uneven and premature wear of some auto parts. Every time you hit a bump or pothole in the road, the suspension and steering systems take a hit too. When the wheels are not evenly helping with the impact, some parts of these systems take a hit harder than the rest, thus causing them to break down prematurely. This ultimately leads to expensive auto repairs that could have been easily avoided.
Huge Range Of Wheel Alignment Equipment
When it comes to wheel alignment, there are many varying machines that you can use to get the job done. Generally, however, you need  the alignment scissor lift and the wheel alignment machine.
(i) The Alignment Scissor Lift
As the term suggests, this is a lift with a scissor mechanism used during a wheel alignment. Its mechanism allows the structure to have high carrying capacity, stability and a wider platform, allowing for safer and more efficient aerial work.
(ii) The Wheel Alignment Machine
This is the machinery that squares the car's wheels and axles, ensuring they are moving in the same direction. This allows the mechanic to adjust the different suspension angles referred to as caster, camber, thrust and toe.
Best Wheel Alignment Equipment In Australia!
It's clear that wheel alignment is pivotal to the optimum performance of your car and safety while on the road. As such, it is recommended to purchase the best wheel alignment equipment in Australia. At Pro Workshop Gear, we have been in the auto repair and service industry for decades and we will be happy to serve you in a prompt and professional manner. All our equipment is Work Safe and CE certified so you know you are getting the best quality wheel alignment equipment available.
We deliver to Melbourne, Canberra, Sydney, Adelaide, Brisbane, Darwin, Perth & Hobart. Plus many more regional depots across the country.
Wheel Alignment FAQs
How much does a wheel alignment cost?
On average, a wheel alignment will cost you anywhere between $100 and $250. This depends on your type of car and the auto repair shop.
How do I know if my wheels require alignment?
There are some telltale signs that your wheels need alignment:
The car is drifting or pulling to the side
One tire is more worn than the other
You're experiencing difficulty when steering
What is the wheel alignment process?
First, the car is lifted and inspected from beneath. The expert checks and adjusts the tire pressure before the car is connected to the alignment machine. Next, the measurements of the toe, caster, thrust, and camber are made and adjusted to align the suspension. Finally, a recalibration of the steering wheel will be done to ensure it's in the center position.
What happens if you drive with poor alignment?
Driving with bad alignment will lead to issues such as:
An unstable car system
A brake shaft that does not function optimally
Fuel inefficiency
Substantial costs of new tires
How long should a wheel alignment last?
Typically a wheel alignment should last between two to three years. If you notice the above-mentioned signs at any time, however, you should turn in the vehicle for a checkup.
Is wheel alignment necessary?
Maintaining proper wheel alignment is essential to avoid unnecessary wear on your car's tyres, steering and suspension. Accurate adjustments can improve driving stability as well as maximise tyre life.
What are the signs of a bad alignment?
A few signs of bad alignment are excessive tyre wear, vibrations and frequent jolts when driving on smooth roads or the steering leads away from centerline.
How fast will tyres wear with bad alignment?
A small misalignment will decrease your tyre's lifespan by a few thousand kilometres, while a major misalignment can lead to wear-and-tear within only several hundred kilometers.
What does a bad alignment sound like?
A misalignment can lead to your vehicle squealing or while turning a corner at high-speeds, it can cause 'knocking' from the front of the car.
Contact
Need Advice? Just give us a call!
1300 082 002