Description
Clear floor 2 post Hoist 4.5T
14 Bent super Strong with 24V Control Box, safety limit switch, ELECTRIC Solenoid unlock, single or 3 phase,
Jackaroo 2 post Hoist 4.5T Clear floor, Professional workshop Grade car hoist With safe 24V control box, solenoid release switch,  round-up screw adjustable lifting pads and height adaptors Included . 14 Bent super strong Columns for More Stability And Safety.
New Design: A 240V power supply socket at your finger tip which is placed on the control box on the main post.
NOTE, Floor Jackaroo Reinforcement Plates available if your floor doesn't have enough strength to install heavy to post hoists.
you can also buy this product on Ebay.
Dimensions: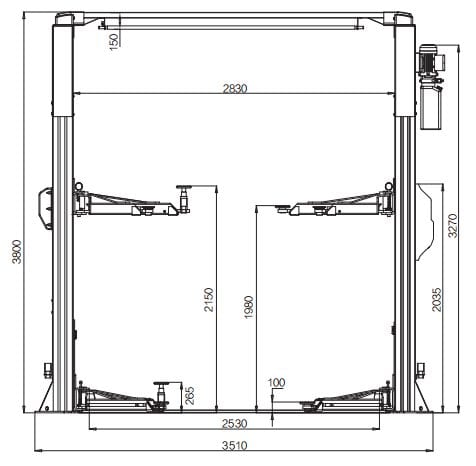 Standard Inclusions: 
Two-post Hoist incl. power unit
Height adaptors (4 pcs)
screw-up adjustable lifting pads (4pcs.)
Heavy duty anchor bolts (10 pcs.)
Door protection
Anti dust cover for columns
Operating and maintenance instructions
Warranty and what it covers:
Up to 3 years full warranty applied (please check terms and conditions)
Features:
Top built quality with CE-certificate
Australian standard (safe work NSW)
4500 kg capacity
Power supply  220v/380v 50Hz
230V power supply socket placed on the control box
Lifting height 1980 mm
Solenoid Electric release
Super strong 14 Bent Columns for More Stability And Safety
2 hydraulic cylinders chain for less wear and tear
2 & 3 stage telescopic arms
Synchronisation through steel cable
Aluminium Motor designed to last Long
Australian standard socket and plug
storage bracket for height adaptors
Technical Data:

| Lifting capacity | 4500 kg |
| --- | --- |
| Lifting time | 50 sec. |
| Low lifting point | 100 mm |
| Max lifting height | 1980 mm |
| Motor power | 2,2 kW |
| Power supply | 220v/380v 50Hz |
| Weight | 675 kg |