Service Jacks
At Pro Workshop Gear, we offer a wide range of high-quality car jacks. All our car jacks are carefully crafted to fit a specific lifting application and can lift just about anything that requires lifting in your workshop. Pro Workshop Gear has car jacks that can suit any application and are all Work Safe and CE certified.
Whether you want a super heavy-duty jack, low profile floor jack, a quick pump floor jack, or an all-around jack for your every day jacking needs, we have the solution you need. We can also supply you with a car lift or truck lift if your workshop requires a lifting capacity that surpasses our jacks.
Are you looking for a quality car jack? Pro Workshop Gear offers a huge range of service jacks ranging from trolley jacks to car jack lifts. Contact us now on 1300 082 002 to get a free quote.
Showing all 13 results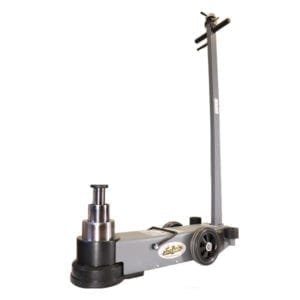 Jackaroo - Truck Jack - 60T Air Hydraulic: Jackaroo Truck Jack 60T 3 stage 60T/30T/12T Air Hydraulic Truck Jack made for trucks & buses with .....
Why Buy A Car Jack From Pro Workshop Gear?
Pro Workshop Gear has been operating since 1998, and all our car jacks are Work Safe and CE certified, are safe and durable. As we run a workshop of our own and have years of experience in the industry, we understand that your workshop needs quality car jacks. Our car jacks have superior quality, so we use them in our workshops and provide them to other workshops across Sydney, Canberra and NSW.
We understand your expectations and needs from a car jack, why you need and it, and that you would like a return on investment on them. That is why our mission is to only give you top-quality car jacks, among other automotive workshop equipment, at the best prices. When you buy your car jack from us, you can have peace of mind that we have your best interests at heart and supply you with the latest automotive workshop equipment.
We also offer a range of car jacks you can select from, so you are guaranteed a number of options. Call us today for expert advice on what car jack to buy for your workshop.
Huge Range Of Service Jacks
Pro Workshop offers a wide range of service jacks, including:
 Air hydraulic: We have different air hydraulic jack models that our professional vehicle maintenance customers can select from.
Hydraulic jacks: Our range of hydraulic jacks includes a 3.5T low profile floor jack for 4 wheel drive and low cars, extra-low 1.5T trolley jack for sport cars, and 2.5T floor jack for general use.

Jack stand: Pro Workshop Gear offers a range of high-quality jack stands with different features and are reasonably priced.

Under car stand: Our under-car stand can hold up to 680kg and come with a push-up pedal.
Tips On How To Use A Car Jack Like A Pro:
Car jacks are pretty easy to use. However, before using one, please make sure to engage your car's parking gear or the first gear with a handbrake. It would help if you only used a car jack to lift your car off the ground and avoid holding it in a single position for an extended period. Below are the steps to follow when using a car jack.
Locate the safe lift points before placing the car jack.

Place the jack under the safety lift point and always ensure the base plate is directly under the frame's sill.

Slowly and steadily, get the base plate to reach the car and ensure they are correctly aligned so that the weight is evenly distributed.

Keep applying step three until your car is off the ground and in the required position.

Bring the car to its original position.
Best Car Jacks In Australia!
There are countless types and brands of car jacks in the market, and owning one can come in pretty handy. Once you know the different types and how to use them, it is easy to choose one that suits your needs. At Pro Workshop Gear, we offer a vast range of service jacks – trolley jacks and car jack lifts.
We deliver to Hobart, Perth, Darwin, Brisbane, Adelaide, Sydney, Canberra & Melbourne, among many other regional depots.
Car Jacks FAQs
What are the different types of car jacks?
There are two main types of car jacks, mechanical car jacks and hydraulic car jacks. Hydraulic car jacks include floor and bottle jacks, and mechanical car jacks include a high lift and scissor jack.
Are trolley jacks good?
Yes, trolley jacks can offer excellent value for money. Most professionals and car owners own car trolley jacks because of their reliability, heavy and robust structure, and versatility, which allow them to accommodate a range of applications.
Do car jacks work on all cars?
Not quite. There are different car jacks – each tailored for a specific purpose and setting – which means that not any jack will be an ideal fit for all types of cars.
What kind of jack do I need to lift my car?
The jack you need to lift your car will vary depending on the type and model of your car. Understanding your car's jack point, design, and weight will help you determine the ideal car jack to use when lifting your car.
Is a 2 ton jack enough for a car?
The use of a two-ton jack will be sufficient for most sedans and small cars.
Can I use a 2 ton jack on a 3 ton car?
A floor jack should typically be rated for at least three-quarters of the vehicle's weight. So yes, a 2 ton jack can be used on a 3 ton car.
Can you use a trolley jack on a car?
Trolley jacks are a much easier way to get your car up than scissor jacks. The hydraulic pressure makes lifting and lowering simple and easy.
Where do you jack up a car with a trolley jack?
Front cross members and underneath the diff pumpkin are the best place to jack your vehicle.
Contact
Need Advice? Just give us a call!
1300 082 002