Car Stacker / Parking Hoist
Are you looking for the best car stacker parking systems in Australia? If so, you have come to the right place. Car park stackers are a popular way of multiplying available car parking spaces in residential and commercial developments. They are a safe, reliable, and user-friendly solution for doubling or tripling the number of cars that can park in a single conventional car parking space. When you are looking for superior quality car stacker parking systems in Australia, you don't have to look further than Pro Workshop Gear.
We have been supplying quality car stackers since 1998 and are renowned for manufacturing the highest quality and safest car parking systems in the market today. Multiply your building design's parking space with our vehicle stackers for sale. Our car park stacker systems and lifts are Work Safe and CE certified and are available Australia-wide. Call 1300 082 002 right now to get a free quote!
Showing all 9 results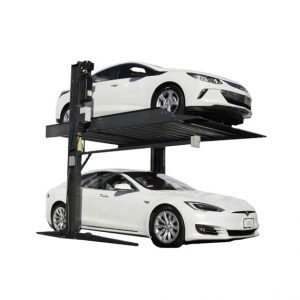 JTPCS2.7   2 post car stacker 2.7 T lifting capacity dual hydraulic cylinder The JTPCS2.7 dual-column/ 2 post Car Stacker  is .....
Australia's Direct Supplier Of Car Stacker Parking Systems
Why Buy Car Stackers & Lifts From Pro Workshop Gear?
Pro Workshop Gear has an exclusive arrangement with Jackaroo to distribute its range of car park stackers to automotive workshops and commercial establishments across Australia. Our independent automated parking systems are some of the safest systems available in Australia right now. They are highly reliable and designed to operate for extended periods with little or no maintenance at all.
Pro Workshop Gear was founded by an industry veteran with over 30 years of experience in the automotive equipment industry. No corners are cut when it comes to the products sold by Pro Workshop Gear. We are your trusted partner in Australia for all of your car parking space needs. Our car stackers cost less than other products on the market so if you are looking for the best car stacker for sale in Sydney, Canberra and NSW, don't look any further than Pro Workshop Gear.
If you are looking for automated independent parking systems for your automotive workshop or commercial establishment, Pro Workshop Gear has the right solution for you. Our parking hoists and systems are made of the highest quality materials for durability and optimal performance.
How Car Stackers Can Improve Property Values & Project ROI!
Car parking stackers can improve the values and project ROIs of your next commercial project. Here are some of the benefits of investing in car stackers for sale:
Space optimisation
Budget saving
Quality
Safety
Prestige
Enhance the property value
Quality car stackers add more space in your parking lot. It enhances the value of your property and helps save on total build costs by creating more space for additional property features. Pro Workshop Gear's products comply with Australian Safety Standards and are Work Safe and CE certified. The state-of-the-art technology of the latest car parking stackers is highly valued by property buyers in the premium and luxury end of the market. These car stackers enhance the prestige of your commercial property.
Best Parking Hoist In Australia For Sale!
Pro Workshop Gear offers some of the best parking hoists and stacker systems for sale in Australia. We offer a wide range of car stackers and parking hoists such as single post hoist, 4 post parking hoist, 4 post twin/double car stackers, 2 post car stackers to simply and safely double up your parking spots with a minimum cost, suitable for all commercial and residential use.
Multiply your building design's parking space with our car stackers for sale. We supply car park stacker systems and lifts Australia-wide. Call1300 082 002 right now to get a free quote!
ENQUIRE NOW
We deliver to Canberra, Melbourne, Sydney, Brisbane, Adelaide, Darwin, Hobart, and Perth. Plus many more regional depots across the country.
Parking Hoists FAQs
Are car stackers safe?
Yes, car parking stackers are a completely safe way to ensure sufficient parking in your workshop or commercial property.
How does a parking lift work?
A car stacker works like a lift. You just drive on and hit a button to make the car go up.
Are car stackers noisy?
Car stackers are commonly located below ground level, which dampens noise and vibration.
How much do car stackers cost?
Car stackers range in cost from $4,000, up to $70,000 depending on the number of units and the models.
What is a car stacker system?
Car stackers are a common and reliable way of multiplying available car spaces in commercial or residential developments.
What is a double car stacker?
Double car stackers allow you to double up on areas as parking spaces and hide the cars entirely from view if need be.
What is a parking lift?
Parking lifts make it possible for you to store, display and manage your vehicles in the most efficient way
Are car stackers expensive to maintain?
Maintenance for a car stacker is generally pretty minimal, but like any other machine there will be general maintenance required. The cost will vary depending on usage and model of the car stacker.
Contact
Need Advice? Just give us a call!
1300 082 002