Car Tyre Changer
Whether you are looking for a fully automatic, centre-clamp or table-top vehicle tyre changer, Pro Workshop Gear offers a wide selection of powerful and reliable car tyre changers that will meet any worksho's needs, including world leader Twin Busch Germany.
Pro Workshop Gear stocks a wide selection of tyre changers in Australia. We currently stock:
● Centre-Clamp Tyre Changers
● Automatic Swing-Arm Tyre Changers
● Tilt-Back Tyre Changers
● Swing-Arm Tyre Changers
● Heavy-Duty Tyre Changers
Showing all 3 results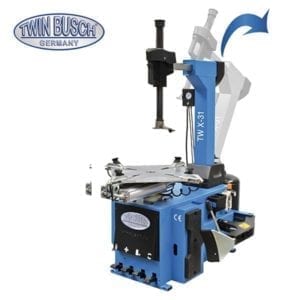 Wide Clamping Tyre Changer Twin Busch  Wide Clamping Tyre Changer with pneumatically operated tilting back column and integrated air-booster in the .....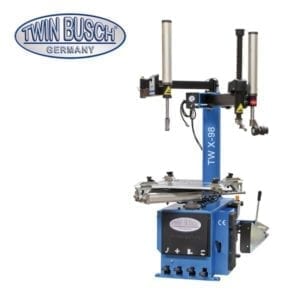 Twin Busch Semi Automatic Tyre Changer, Pro Line with side swing arm The multi-talent Twin Busch Germany Semi Automatic Car Tyre Changer, Pro Line .....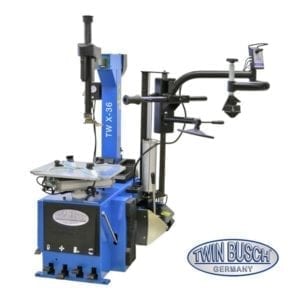 Automatic Tyre Changer Machine - Pro Line with Assist Arm  Automatic Tyre Changer Machine, High Performance Pro-Line, pneumatically operated with .....
Why Buy Professional Tyre Changer Equipment From Pro Workshop Gear?
Pro Workshop Gear has in stock a full line of tyre changing machines. We have invested heavily to ensure the sale, delivery and installation of our various tyre fitting and changing equipment is nothing short of perfect.
Quality Assured
We take the quality of our services and our tyre changing equipment very seriously. Furthermore, we have put in a great deal of effort into streamlining the sourcing, distribution and installation of all our tyre changers in order to offer our customers the best possible service. That is why we fully recommend Twin Busch Germany, one of the worlds leading tyre changing brands.
Wide Selection Of Tyre Changers
Our website offers a wide selection of tyre bay equipment ranging from entry-level tyre changing equipment which is great for low-volume workshops and home users to fully automatic professional tyre changers that are designed to meet the high-level demands of full-service garages and workshops.
Tyre Changer Parts
On top of offering high-quality and affordable vehicle tyre changers, Pro Workshops also has large stocks of tyre changer parts so that our clients can rest assured that in the event their equipment breaks down, we will have the necessary parts to get them up and running again in no time.
Outstanding Customer Service
Our goal is to offer a prompt response to any and all client issues/questions and concerns regarding any of our tyre changing machines.
Parts Warranty
Pro Workshop Gear offer a market-leading 2-year parts warranty on every tyre changer bought from us. All our car tyre changers and wheel balancers have full CE certification and conform to all current Australian laws.
Simply choose the tyre changer that best suits your requirements and leave the rest to us because here at Pro Workshop Gear, we aim to set the pace for other suppliers of professional garage equipment to follow.
Advantages Of Using Car Tyre Changing Machine
Save Time
Time is a valuable resource in most garage settings and environments. Mechanics cannot afford to waste any time because there is plenty of work to do. Instead of spending hours changing a single tyre with your bare hands, you can spend just a couple of minutes changing tyres on multiple vehicles. Changing tyres by hand is no easy task. An automatic tyre changer can make this work easier and less time-consuming.
Save Energy
Car tyre changing machines are more convenient and user-friendly than simple tyre changing tools and equipment. You require minimal energy or effort to operate these machines, which means that you can concentrate on more important business matters.
Small Improvements, Big Savings
By saving both time and energy, you will realise many small improvements that can result in major cost savings for your garage. Improved efficiency and productivity can boost sales and overall business revenue.
Safety For Employees
You can ensure your employees' safety at all times by investing in a high-quality car tyre changer.
Preserve Valuable Tyres And Rims
Car tyre changers are great at protecting and preserving the condition of both tyres and rims, which can help improve customer satisfaction and retention.
Good Deals On Used And Refurbished Car Tyre Changers
You can get fully operational used or refurbished car tyre changers at affordable prices. We stock Twin Busch Germany which is the leading brand for tyre changes in the world.
Tyre Changer Machine for Sale Australia!
Our entire range of Pro Workshop Gear tyre changers is available for next day shipping and delivery to most Australian destinations. Pro Workshop Gear can arrange for the installation of your garage equipment at affordable rates.
We deliver to Melbourne, Canberra, Sydney, Adelaide, Brisbane, Darwin, Perth & Hobart, plus many more regional depots across the country.
ENQUIRE NOW by reaching out to our sales team at sales@proworkshopgear.com.au.
Car Tyre Changer FAQs
How do you use a tyre changer?
Step 1: Gather Materials, Step 2: Deflate Tyre and Break Bead, Step 3: Place Rim on Tyre Changer, Step 4: Remove Tyre from Rim, Step 5: Attach Tyre to Rim, Step 6: Inflate the Tyre
How does a tyre changer work?
A tyre changer removes and installs tyres off and on a rim.
How do you change a tyre manually?
You need to jack your car off of the ground, unbolt the flat tyre, and then swap the flat tyre with a good tyre.
Is changing a tyre easy?
Changing a tyre requires a substantial amount of time and physical effort.
Can someone come and change my tyre?
The best thing to do when you have a flat tyre is to call your mechanic or visit your local garage.
How much does it cost to get tyres changed?
Tyre replacement can cost $80 to $800 depending on tyre brand and tyre size.
Contact
Need Advice? Just give us a call!
1300 082 002