Workshop General
At Pro Workshop Gear we have a great selection of automotive service equipment for sale. As one of the top mechanical workshop equipment suppliers, our workshop equipment is high quality, durable and reliable. Furthermore, our workshop tools and equipment are competitively priced and we have regular promotions. If you own a garage and you service heavy vehicles or any types of vehicles for that matter, then you should check out our selection of workshop equipment.
Showing all 4 results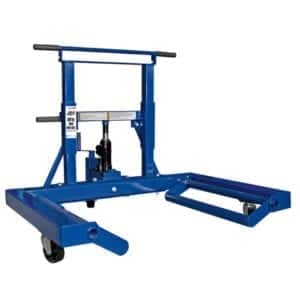 Truck Wheel Dolly 680 Kg - Jackaroo JTWD680K Jackaroo 680 Kg Truck Wheel Dolly, has heavy duty tubular construction with adjustable cradle rollers .....
Workshop Equipment
If you run a garage, then you should get your mechanic workshop equipment from a direct supplier in Australia. When it comes to workshop equipment in Australia, businesses like yours should check out the mechanical workshop equipment for sale on our website. In the long run, you could save a ton of money because our equipment is built to last.
At Pro Workshop Gear, we not only sell an array of automotive service equipment, but we can also install equipment and also offer repairs and maintenance services. We are confident that we are among the best direct suppliers of workshop equipment, as well as the best installers.
As a leading direct supplier of automotive service equipment, we believe in providing nothing but the best customer support. If you have questions about our equipment or services, feel free to contact us. If you've already purchased from us and you have a question about your equipment, then give us a call or send us a message.
Huge Range Of Workshop Equipment For Sale
We have a huge range of automotive service equipment for sale, such as alignment scissor lifts that are designed to hoist an engine. We also have a scissor lift that's designed to lift the front or back end of the car. It doesn't matter what type of scissor lift you buy from us, you can count on it being able to get the job done.
We have a selection of wheel alignment machines. One of our machines is designed for heavy-duty vehicles. Another one of our machines is relatively small and portable but is capable of performing wheel alignments on light and medium-duty vehicles.
That's not all we offer. We also sell mobile car lifts, two and four-post hoists, as well as parking hoists. Pro Workshop Gear also sells general workshop equipment. We offer a large and robust selection of workshop equipment.
Buy The Perfect Tools For Your Workshop Now
Are you ready to buy tools for your workshop? If so, then check out our selection today. We sell everything you can think of, and all of our equipment is of high quality. We believe in selling only quality automotive service equipment that's safe to use, as well as built to last.
Our tools are ideal for garages of all sizes. It doesn't matter if you're brand new or have been around for a long time, we can provide you with the tools and equipment you need to get jobs done. We are confident you will love the equipment we sell.
Whether you need fittings, a wheel alignment machine or any other type of equipment, we encourage you to order it from us.
We deliver to Melbourne, Canberra, Sydney, Adelaide, Brisbane, Darwin, Perth & Hobart. Plus many more regional depots across the country.
If you have any questions regarding where we deliver to, then give us a call or contact us at the following email: sales@proworkshopgear.com.au
Workshop Equipment FAQs
What are the tools used in the workshop?
There are many types of tools used in workshops depending on the job at hand. This includes everything from small handheld tools to very large pieces of equipment such as hoists.
What is found in a workshop?
You can find hoists, tyre changing equipment, fittings, lifts and service jacks to name a few.
What is the meaning of workshop equipment?
This means equipment that is designed to specifically be used in workshops. For example, workshop equipment typically means equipment for mechanics.
What are the types of workshops?
There are mechanical workshops, woodworking workshops and metal workshops to name just a handful.
What is the purpose of the workshop?
Workshops are there to fix, repair and install various types of equipment. The type of equipment a workshop deals with and the services they offer depends on the nature of the workshop.
How do you create a successful workshop?
You need quality equipment and good workers that follow procedures efficiently and effectively.
Contact
Need Advice? Just give us a call!
1300 082 002