Truck Jacks
Air hydraulic truck jacks are an excellent option for people looking to power their air hydraulic needs for light-duty work. This type of truck jack uses compressed air to generate hydraulic pressure. This makes them ideal for use in small, compact spaces. An air hydraulic truck jack can be used for several applications. They may not have the same power as some other types of jacks, but they are still powerful enough to lift and move objects. This makes them ideal for home garages and small automotive workshops. Other users include those who use an air compressor frequently but do not want to purchase a high-powered jack.
If you're interested in purchasing an air hydraulic truck jack, please get a free quote from our team. We would be happy to help you find the perfect jack for your needs.
Showing all 5 results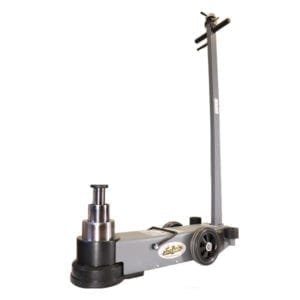 Jackaroo - Truck Jack - 60T Air Hydraulic: Jackaroo Truck Jack 60T 3 stage 60T/30T/12T Air Hydraulic Truck Jack made for trucks & buses with .....
Why Buy Air Hydraulic Truck Jacks From Pro Workshop Gear?
At Pro Workshop Gear, we know that it's essential to find all the tools and equipment you need in one place. That's why we offer a wide variety of air hydraulic jacks for sale – from portable models perfect for home use to heavy-duty models designed for commercial applications. We also carry parts and accessories such as replacement cylinders and valves, plugs, seals and gaskets.
Whether you need to lift heavy vehicles or heavy equipment, our professional-grade air hydraulic jacks are sure to do the job well and last a long time. Their quality craftsmanship ensures that they'll be able to hold up under pressure. We carry several sizes and models of air hydraulic jacks, so you're sure to find the perfect one for your needs.
At Pro Workshop Gear, we're committed to providing our customers with quality products and excellent service. We're here to help you get the job done right, so if you have any questions or if there's anything we can do for you, please don't hesitate to contact us.
Pro Workshop Gear is your one-stop-shop for all air hydraulic jacks as an air hydraulic jack supplier. We offer air over hydraulic jacks in various styles and sizes at great prices with fast shipping.
How Does An Air Hydraulic Truck Jack Work?
An air hydraulic jack requires both air and hydraulic pressure to operate. Typically, the unit is connected to a compressed-air/gas source such as an air compressor or tank via rubber tubes that go from the pump head on the object lifted to individual cylinders on either side of the lifting surface. The hydraulic fluid in the cylinders is forced out by compressed air, causing the jack to raise.
The compressed-air/gas source powers the hydraulic pump, which creates pressure in the hydraulic system. This pressure pushes the hydraulic fluid out of the cylinders and into the reservoir, raising the object that is being lifted. The amount of lift that an air hydraulic jack can provide depends on the size of the jack and the type of hydraulic fluid used.
Moreover, most air hydraulic jacks have a built-in pressure regulator that automatically adjusts the fluid flow to accommodate changes in atmospheric conditions and to accommodate variations in load weight. The jack cylinders are precision machined and then fitted with extra-heavy-duty internal components for maximum reliability and longevity.
Our hydraulic jacks come in many different models and sizes designed for a variety of purposes.  When it comes to air hydraulic jacks, the most crucial factor is the weight capacity. At Pro Workshop Gear, we carry air over hydraulic jacks that are perfect for both home and commercial use.
Truck Jacks For Cars For Sale In Australia!
Looking for an air hydraulic jack in Australia specifically designed for lifting cars? At Pro Workshop Gear, we carry a wide variety of air jacks for cars that are perfect for both home and commercial use. Our air jacks for cars feature a heavy-duty design that can handle up to 20,000 kg of weight, making them ideal for lifting large vehicles.
Thanks to their straightforward design, our air jacks for sale are also incredibly easy to operate. Plus, most of our hydraulic jacks come with a variety of accessories that make them even more versatile, including:
An air hose for industrial use that is over six metres long
A pressure gauge that allows you to monitor the jack's pressure level
A quick-release valve that makes it easy to lower the car
Our air jacks also come with a built-in pressure relief valve that helps prevent the jack from overloading for added safety and convenience. If you're looking for a quality air hydraulic jack in Australia, then Pro Workshop Gear is the place to go. We carry all of our carjacks at incredibly reasonable prices, and every one of them is backed by a one-year warranty.
Here at Pro Workshop Gear, we are committed to providing our customers with the highest quality air hydraulic jacks available. We only carry top-of-the-line brands designed to provide reliable performance for years.
Before you make your next purchase, be sure to consider our entire selection of air hydraulic truck jacks for sale. Enquire now to learn more about our products and how they can benefit your business or home workshop.
We deliver to Melbourne, Canberra, Sydney, Adelaide, Brisbane, Darwin, Perth & Hobart. Plus many more regional depots across the country.
You can also contact us at sales@proworkshopgear.com.au for further information. We look forward to helping you find the perfect jack for your needs!
Truck Jack FAQs
What size jack do I need for my truck?
It is recommended to use a jack that is rated for at least three-quarters of your vehicles weight.
What jack is good for a truck?
Jacks are rated according to how much weight they can support, so a good jack for a truck should be strong enough to hold at least three quesrters of the trucks weight.
What are 4 types of jacks?
Four of the most common jacks are scissor jacks, air hydraulic jacks, trolley jacks and bottle jacks.
What's the best jack for a lifted truck?
This largely depends on the size of the truck however air hydraulic jacks and bottle jacks are the most common.
How do I jack my lifted truck?
Step 1: Make sure you're using the appropriate jack
Step 2: Pick a safe location to jack your truck
Step 3: Park your truck
Step 4: Inspect the jack to ensure it is functioning correctly
Step 5: Find the best jacking points for your truck
Step 6: Position the jack on sturdy ground beneath the jacking point
Step 7: Jack up your truck
Step 8: Lower the truck gently when finished
Can you jack a truck by the axle?
Your differential is designed to handle the load of your truck and will have no problem supporting you while suspended.
Contact
Need Advice? Just give us a call!
1300 082 002