Description
Jackaroo Side by Side, Twin Parking Hoist 4Ton Capacity
Jackaroo Twin Parking Hoist 4 Ton, side by side parking hoist a perfect car hoist to create more room in your garage or workshop, Manual release with all the safety features.
4 Ton jackaroo Twin Parking Hoist, Smart way to double up your parking spots with the minimum possible cost, thanks to its great lifting height almost 2.1 m that will give you a good clearance so you can park other higher vehicles underneath safely and it is easy to operate.
No need to be bolted to the ground, also Optional caster kit-  mobile kit can be fitted to relocate around the shed if needed.
Heavy duty Platform with 2 meters clearance,  an Advanced product compare to other suppliers
Drawing: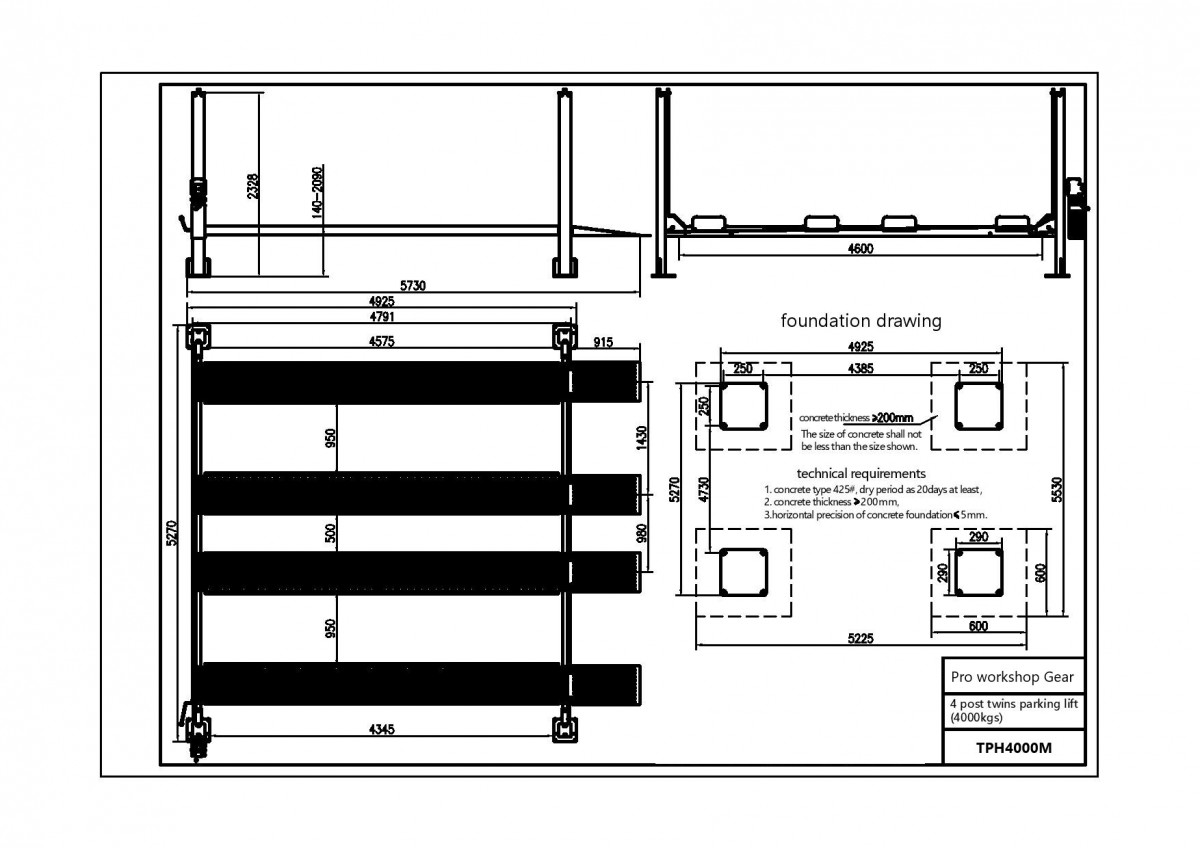 Standard Inclusions:
Hoist and motor unit
Ramps (4 Pcs)
Stopper (2 Pcs)
Anchor bolts
Drip tray (6 Pcs)
Metal toolbox (2 Pc)
Manual Book
Optional: Mobile kit
Optional: Special Hydraulic oil
Features: 
Lifting capacity of 4000 kgs for 2 cars
Max.  Lifting height 2090 mm
suitable for home garage & small workshops
Australian standard (safe work NSW)
15 Amp, Single phase Australian Standard Plug fitted
Mechanical safety-locks
5mm platform thickness before coating
Powder coated
Technical Data:
| Lifting capacity | 4000 kgs for 2 cars |
| --- | --- |
| Max lifting height | 2090 mm |
| Min height | 140 mm |
| Lifting/lowering time | 60/45 sec. |
| Power supply | 240 V |
| Motor power | 2,2 kW |
| Weight | 1250 kg |