Description
2 post Hoist 5T Base Plate:
5t 2 post Base Plate with 24V Extra Safe Control Box locking mechanism, safety limit switch, ELECTRIC Solenoid unlock , 3 phase
Jackaroo 2 post Hoist  5T Base Plate, Professional workshop Grade which enables to lift a wide range of vehicles safely from small passenger cars (f.ex. smart) up to Large vans and 4 wheel drive vehicles
With electrical release, round-up screw adjustable lifting pads and height adapters Included . Safety valves for More Safety.
NOTE, Floor Jackaroo Reinforcement Plates available if your floor doesn't have enough strength to install heavy to post hoists.
you can also buy this product on Ebay.
Dimensions: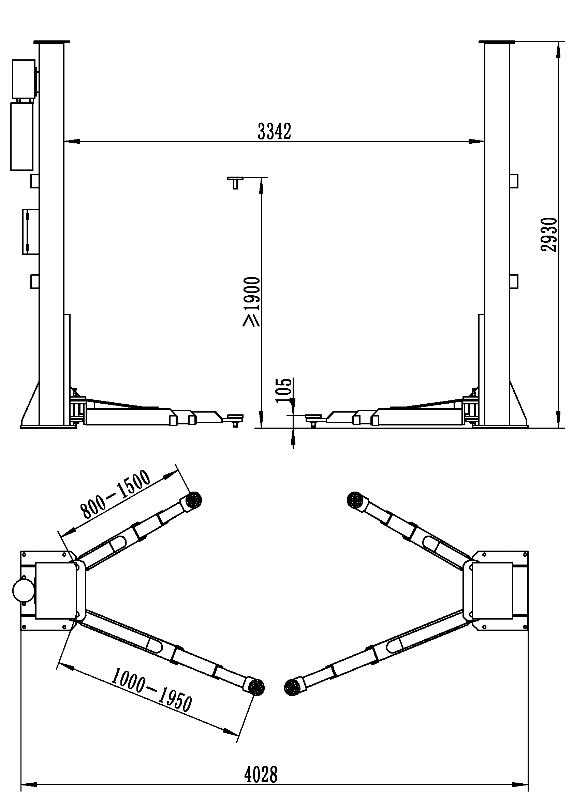 Standard Inclusions:
Two-post lift incl. power unit
Height adapter (4 pcs.)
Anchor Bolts
Dust Cover
Door protection
Operating and maintenance instructions
CE-Certificate
Optional: Special Hydraulic oil
Features: 
Top built quality with CE-certificate
5000 kg capacity
Power supply  380v 50Hz
Lifting height 1900 mm
Aluminium Motor designed to last Long
Solenoid Electric release
Emergency lowering valve by a power blackout
2 hydraulic cylinders for less wear and tear
The automatic arm locking device
Synchronisation through steel ropes
3 & 3 Stage telescopic arms
Technical Data:
| Lifting capacity | 5000 kg |
| --- | --- |
| Max lifting height | 1900 mm |
| Low lifting point | 105 mm |
| Lifting time | 45 sec. |
| Power supply | 400V / 3 Phases |
| Motor power | 2,2 kW |
| Weight | 970 kg |