Mobile Car Wash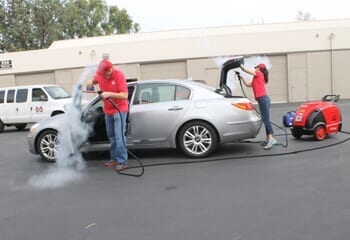 Unrestricted mobility
If you've ever been disappointed by a conventional steam car wash or had to wait in long lines for your turn, Optima Steamer would be a perfect solution for you.
The mobility due to its all-in-one system allows the customer to wash and detail anywhere and everywhere without the hassle of visiting a car washing outlet and with little to no waste-water run-off.
Comprehensive car cleaning services at your doorstep!
Now, it is becoming a global trend to get your car washed by on-demand, Smart App-based mobile car cleaning services. Once you make an on-line booking via Smart App., a mobile van will drive all the way to your location and take care of your car while you go out. Optima Steamer enables car cleaners and detailers to take their business even on the road with less initial investment and high return on investment.
Contact
Need Advice? Just give us a call!
1300 082 002