Why Steam?
Work Smarter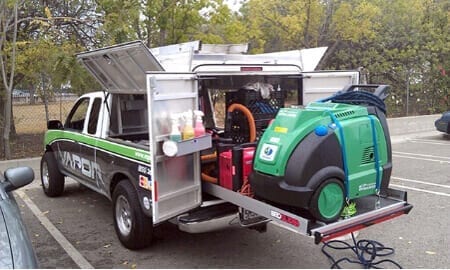 Simplify Your Business
Are you a mobile car wash operator? Then you probably carry – a pressure washer, a 100-gal water tank, a waste-water tank, wash mats, a water reclamation system, an air compressor, a 2000-watt generator, two dozens of chemical bottles, piles of rags, among a few other items.
To use steam will downsize your overhead BIG time. Optima Steamer uses a fraction of water and chemical, generating zero waste-water run-off. This means no need to fill up an oversized water tank every morning, and no prep work to contain water and no clean-up, eliminating the need to carry a heavy reserve water tank and a waste-water tank.
The steam of Optima Steamer breaks up most of soil, grease and grime on a car which will reduce the chemical consumption by up to 90%. The gentle pressure of steam works as an air compressor with a natural sanitizer built-in-one, no longer requiring an air compressor.
With Optima Steamer, you no longer need multiple equipment and chemical bottles and heavy water tanks in limited space of your vehicle.
Avoid Bureaucratic Headaches
Optima Steamer makes car wash much more efficient in a revolutionary economical way. With the machine, you can avoid the hassles of obtaining a car wash permit, allowing you to run your mobile operation with a simple business license. This means that most municipal requirements can be circumvented because the machine provides a safe, eco-friendly, total washing system.
In addition, your business will be exempt from hefty fines or shut-down notices due to improper chemical or waste-water disposal (Learn more about Clean Water Act).
The environmentally and bureaucratically-sound design of Optima Steamer allows its owners to bid on and win many more contracts in cleaning and sanitation areas that would otherwise be completely inaccessible (parking structures, airports, gated communities/ business parks with waste-water tolerance policy)!
Save your energy and time running away from citations, and start focusing on growing your business with Optima Steamer.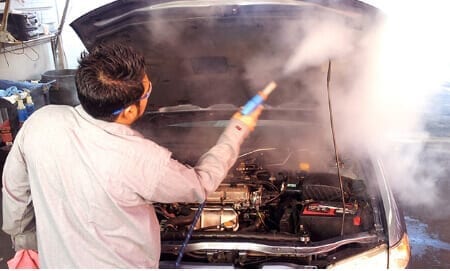 Reduce Health Risks
Its gentle and pure dry vapor steam penetrates into the toughest and most delicate surfaces without using chemicals. A chemical-free and purified cleaning process will allow you to avoid the health risks of inhaling chemical fumes as well as the time-consuming task of cleaning up chemical waste.
Protect the earth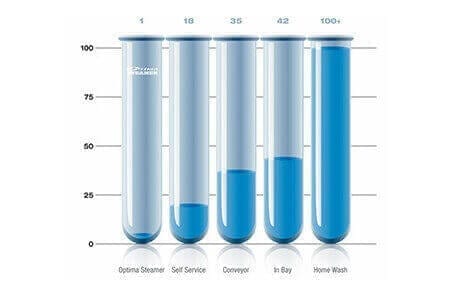 Conserve Water
For mobile car wash operators, Optima Steamer can reduce water consumption by 95%, cleaning a car using as little as one gallon of water. Not only will its steam reduce your water consumption and water cost, it will also reduce the equipment and space necessary to contain water. In the result, the whole weight reduction will greatly reduce vehicle fuel consumption. While an operator of traditional pressure washers carries over 250 gallons of water (over 2,085lbs) and a recovery tank, a user of Optima Steamer needs no more than 20 gallons of water for all day use with no recovery tank!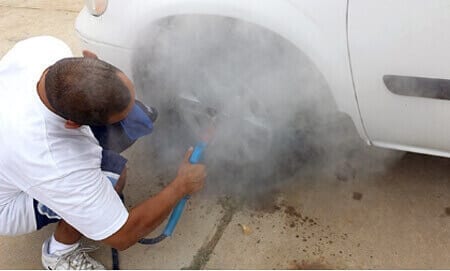 Reduce Chemical Use
The steam of Optima Steamer allows a mobile wash operator to drastically reduce their chemical consumption. In fact, it eliminates the need for window cleaning chemicals, soaps, detergent and other abrasive and harmful compounds. With a moisture control function, Optima Steamer can use wet or dry steam. The steam will break down dirt and grime easily and sanitize any surface without chemical, and the gentle yet powerful steam pressure will lift them up from the surface of a vehicle. The temperature of steam can be easily controlled by the distance a user hold it from the surface, ensuring no damage to surface, especially paint and clear coats!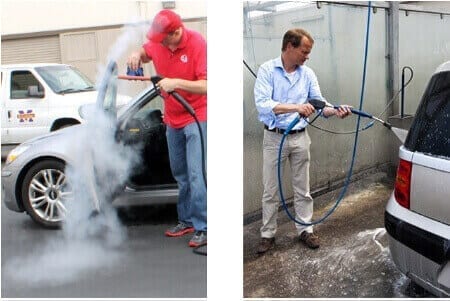 Eliminate Waste Water Runoff
Untreated wastewater disposal to ground soil and storm drains impacts the environment. The equipment required for containing wastewater and the cost to maintain it decreases productivity and profit. Using Optima Steamer, a mobile wash operator can wash and clean without producing waste-water. Eliminating the need for a wastewater reclamation mat and containment system decreases wash time per car and increases your earning potential.
Under the Clean Water Act, the US Environmental Protection Agency (EPA) implemented pollution control programs such as setting wastewater standards for many industries. EPA also set water quality standards for all contaminants in surface waters. The Clean Water Act made it "unlawful to discharge any pollutant from a point source into navigable waters, unless a permit is obtained." When in violation, fines may be $20,000 per day. Using Optima Steamer, you will never generate wastewater runoff. We have helped thousands of customers to bypass permits and fines and to get ahead by making their business more flexible and eco-friendly.
Save Money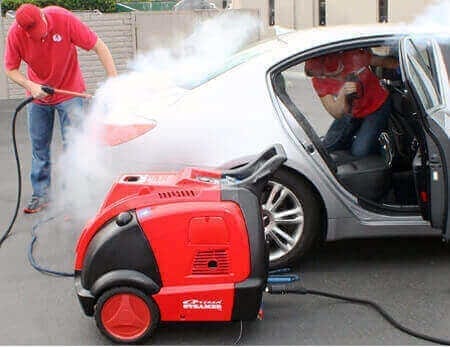 Simplify Your Operations
Optima Steamer saves your valuable time and reduces unnecessary stress by providing you all the solutions for your deep cleaning, stain-removing, sanitizing, and versatile detailing needs. Without the need for chemicals and additional appliances, the revolutionary Optima Steamer encompasses the very essence of efficiency and versatility.
In most business areas of mobile car wash, Optima Steamer can eliminate the need of the following: a pressure washer, a generator above 500 kW, an air compressor, a wash mat, a water reclamation system, an over-sized water tank, a waste tank, and most chemicals for degreasing, washing and rinsing.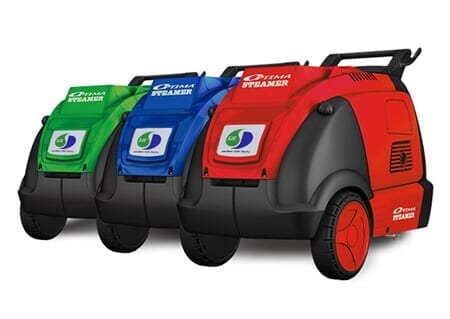 Reduce Your Costs
While each cleaning system with Optima Steamer requires an initial investment, it makes you easily makes up for the cost within the first few months of its operation. With very little water, diesel, and high quality microfiber towels, Optima Steamer is a ready-to-go. Its all-in-one system will save you money on water and an abundance of other supplies and chemicals. If you will now have one unit of the machine, opposed to several pieces of equipment, your operation and maintenance cost including fuel will reduce drastically. In addition, it will be able to expand your business model with all of the new services you will be able to offer as a result.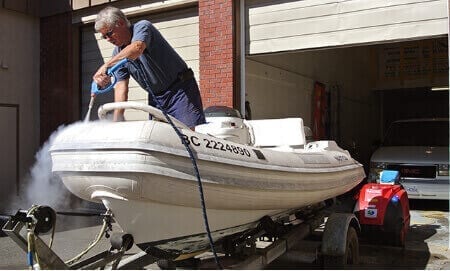 Expand Your Services
Engine Cleaning
Upholstery stain removal
Rim brake dust removal
Deep leather cleaning
Deodorizing
Chemical-free sanitizing