Description
Mid Rise Scissor Lift 3T , Pro Version:
Mobile 3000Kg Modern scissor lift packed with all the safety features 
High Quality heavy duty Mid Rise car Scissor Lift with 1000 mm lifting height.
4 T Mid rise scissor lift with 1200 mm lifting height also available.
Ideal for tyre service, painting and bodywork workshops.
With electromagnetic release. No air Compressor needed. The platform can be extended by locking the drive on ramps and  a mobile kit included to move and relocate the lift easily.
You can also buy this product on Ebay.
Dimensions: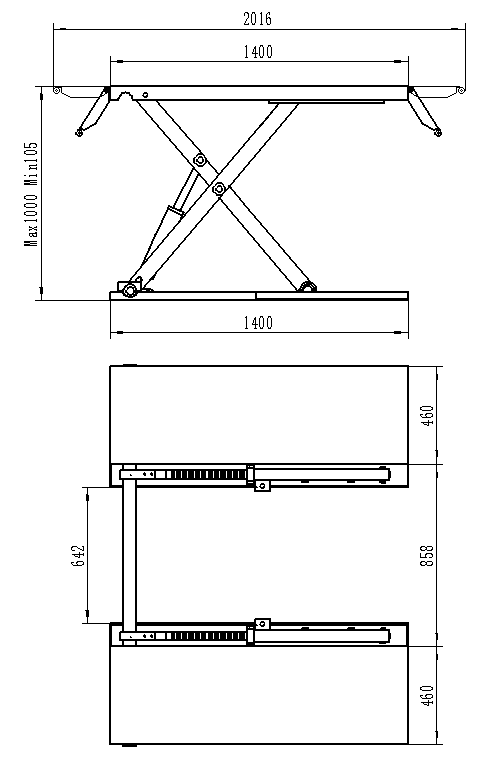 Standard Inclusions:
Lift Incl. Power unit
Rubber blocks
Mobile Kit
CE-certificate
English instruction manual
Examination book and CE-Certificate
Optional: Aluminum Top Platform
Optional: Special Hydraulic Oil
Features: 
Top built quality with CE-certificate
Low drive over height
Mechanical synchronisation
High-quality solid construction
Two powerful hydraulic cylinders
Automatic safety lock
Electric Solenoid locking mechanism
Foot protection
Technical Data:
| Lifting capacity | 3000 kg |
| --- | --- |
| Lifting height max. | 1000 mm |
| Min. Height | 105 mm |
| Platform Length | 1400-2106 mm |
| Lifting Time | 30/35 Sec. |
| Power supply | 240 V / 50 HZ |
| Motor power | 2.2 kW |