Description
5000 Kg Pneumatic Release system 4 post Alignment hoist,
 ideal for cars, SUV , 4 wheel drive or light truck Workshop
Jackaroo 5 ton 4 Post Alignment Hoist powered by 415 V Elector -hydraulic system and Air Release unlocking mechanism that is packed with safety Feature. it is Tough
built to last for alignment service & other repairs
Emergency lowering valve in case of power outage
1 of 2.5 Ton hydraulic Jacking beam, Slip plate kit and turn table are included. 
you can also buy this product on Ebay.
Dimensions: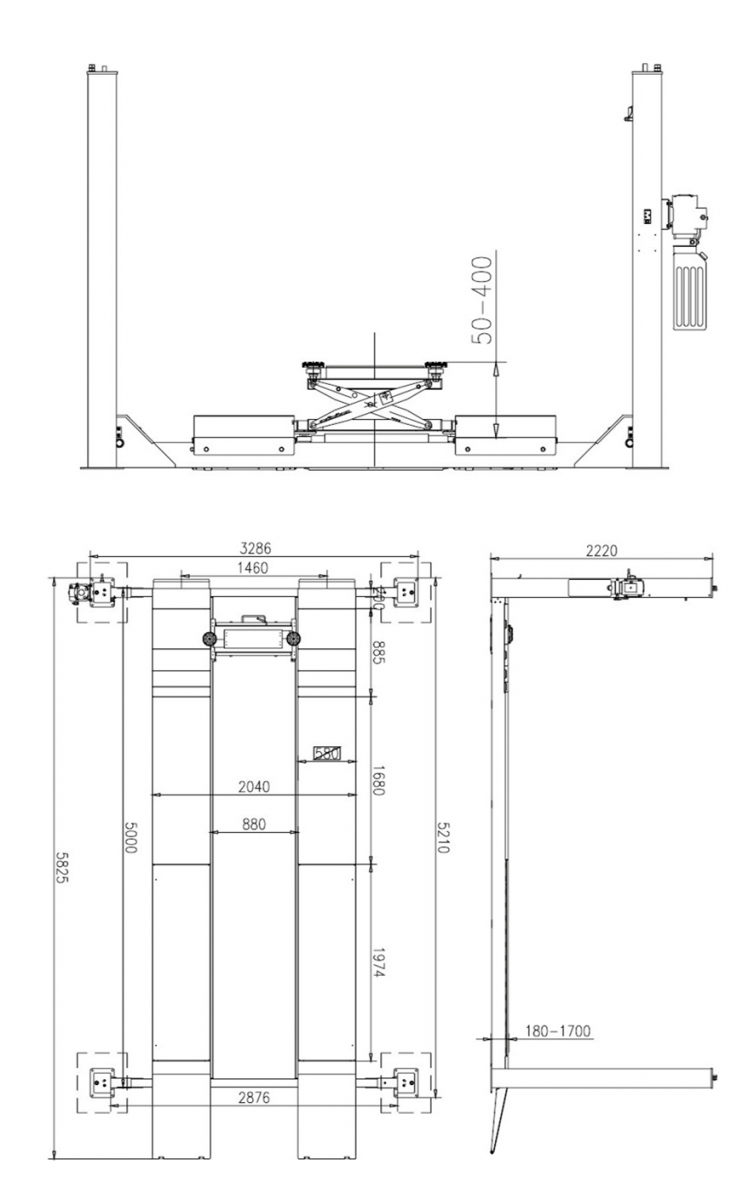 Standard Inclusions:
Four Post Lift Incl. motor unit
Slip plate kit and turn table
1 Sliding Beam Jack
Ramps
Anchor Bolts (M16*120mm (16pc))
Stopper plate
Operating and maintenance instructions
Optional: Special Hydraulic Oil
Warranty and what it covers:
1-3  years  warranty (please check terms and conditions)
Features: 
Lifting capacity of 5000 kg
Max.  Lifting Height 1700 mm (lift) & 340 mm (beam jack)
Min. Lifting Height 180mm
suitable for car and light Truck Workshop
Pneumatic Unlocking mechanism
Height Limit Switch 
Explosion-proof valve, for extra safety in case of brokerage 
Top built quality with CE-certificate
3 Phase power
Powder coated
Technical Data:
Lifting capacity   5.0T
Sliding beam jack Capacity 2.5T
Max lifting height 1700mm
Sliding beam jack lifting height 340mm
Minimum height 180mm
Lifting time 50S
Motor voltage 415 V
Motor Power 2.2KW